Faucet Repair in Keego Harbor, Michigan
Do your Keego Harbor Faucets need Repair, Replacement, or Installation?
At Great Provider Plumbing Company Inc, we have a proud history of servicing faucets in Keego Harbor, Michigan since 2009, and we have no plans of stopping. With our all-day availability, knowledgeable staff, and fast service, it's easy to see why we're the first name in Keego Harbor faucets!
---
Call for a FREE Quote
---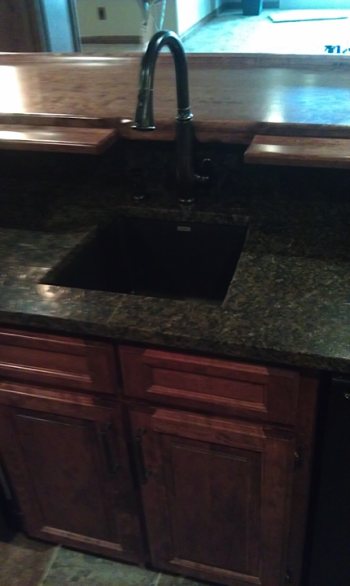 Do you just need to touch up your shutoff valve to prevent leaks? Or would you rather install a disc-style faucet to make leaks a thing of the past? Whether it's repair or installation, we do everything related to faucets in Keego Harbor. With our busy Keego Harbor lives, we can't afford to be without working faucets. This is why you can call us at (248) 658-8803, any time of day!
With all the years we've been in business, we can always tell what's wrong with faucets in Keego Harbor. We've spent a lot of time learning our trade throughout Keego Harbor, so it doesn't take us long to determine if your problem is in the valves, knobs, or pipes behind the faucet.
We provide speedy service to all faucets in Keego Harbor. If you've got a leak in your faucet, you could be wasting hundreds of gallons of water every month. Every second matters! This is why we pride ourselves on getting the job done as soon as possible.
We're happy to drive to any neighborhood in Keego Harbor to fix or install faucets. Call (248) 658-8803 today to find out why so many people rely on us for faucets in Keego Harbor, MI!
---
Call for FREE Faucet Repair Quote
---
WHAT CUSTOMERS ARE SAYING:
5★★★★★ - "Spence Ray, was QUICK to respond to my plumbing problem, corrected it in a professional manner, and was reasonably priced! I would definitely recommend him!"

Anonymous, Faucet Repair in West Bloomfield, MI

2019-02-14

5★★★★★ - "Great experience (no pun intended) with Great Provider Plumbing! I phoned the company and was able to speak directly with the plumber right away regarding my needs for backflow services outside of my home.
I spoke with Spence who had me text him my address. He followed up same day and came over the next morning to review the work, give me a quote on site and finish the job (cap and cut of sprinkler line) all within under two hours.
The work was done well, price was very reasonable, and timing was impeccable."

Sarah C, Plumbing in Farmington Hills, MI

2019-11-18

5★★★★★ - "Very good plumbers, dependable, will not charge a dime over what is required. He was very prompt and did a great job for us. I would certainly use him again as needed"

Bunmi B., Plumbing in West Bloomfield, MI

2019-10-02

5★★★★★ - "Very courteous, and professional. Quality workmanship."

Rich M., Water Heater in White Lake, MI

2019-10-02

5★★★★★ - "My hot water heater was leaking so I contacted Spence on the website. He was very courteous and knowledgeable. thanks for the speedy response. will be recommending to all my friends in the commerce area!!"

Tami Y, Water Heater in West Bloomfield, MI

2019-09-17

5★★★★★ - "Great guy, known 'em for years. Highly recommend!"

Alex S, Plumbing in Livonia, MI

2019-07-17

5★★★★★ - "Woke up one morning to our water heater leaking all over the basement floor. I found Great Provider Plumbing by searching for plumbers near me, and they had high ratings. I called them and spoke with Spence. Not only was he at my house within an hour, he kept me informed as to how the process would go (inspection, fix/replacement, cost, timing, etc). Our water heater was defective and had to be completely replaced. Spence was fast, respectful of our property and very fair with the cost. What started off as a really bad morning for our family, ended with a great experience because of Great Provider Plumbing. Highly recommended and I will absolutely call again when necessary in the future."

Kim P., Water Heater in Farmington Hills, MI

2019-07-17

5★★★★★ - "Very knowledgeable, dependable, and friendly. The worked needed actually ended up being heating and cooling but Spence was honest, able to connect me with a good company and a quote. I would recommend him for your plumbing needs."

Amy, Plumbing in White Lake, MI

2019-06-17

5★★★★★ - "Spence was very knowledgeable and friendly. Did a great job explaining things and all scenarios. Highly recommend him and will use again."

Brett, Emergency Service in Farmington Hills, MI

2019-06-17

5★★★★★ - "Friendly, Professional and Knowledgable."

Tarun G, Emergency Service in Novi, MI

2019-06-17

5★★★★★ - "Woke up one morning to our water heater leaking all over the basement floor. I found Great Provider Plumbing by searching for plumbers near me, and they had high ratings. I called them and spoke with Spence. Not only was he at my house within an hour, he kept me informed as to how the process would go (inspection, fix/replacement, cost, timing, etc). Our water heater was defective and had to be completely replaced. Spence was fast, respectful of our property and very fair with the cost. What started off as a really bad morning for our family, ended with a great experience because of Great Provider Plumbing. Highly recommended and I will absolutely call again when necessary in the future."

Kimberly T, Water Heater in Highland, MI

2019-06-14

5★★★★★ - "I would highly recommend Great Provider Plumbing to anyone who needs an expert plumber. Spence is very professional, he takes his time and explains what is needed to fix the problem. He goes above and beyond for his customers. Thank you again and see you soon for a few other fixes."

Nancy F, Plumbing in Waterford, MI

2019-06-14

5★★★★★ - "Spence is one awesome plumber. Not only is he talented and experienced he also gets the job's done in a clean and timely manner. He ran all the new Plumbing for my new kitchen I remodeled, it works great and looks amazing. I highly recommend him. Give him a call, you won't be disappointed.
Thanks Spence!"

Mike S, Plumbing in Clarkston, MI

2019-06-14

5★★★★★ - "Spence did a great job not only with fixing our water issue, but also advising on what may happen next and looking at several other concerns we had. Thank you for putting in the time to check out our issues!"

Jennifer E, Burst Pipe in Novi, MI

2019-06-14

5★★★★★ - "Very professional."

Gavin P., Sink Plumbing in Royal Oak, MI

2019-05-20

5★★★★★ - "Hired these guys and couldn't be happier. My toilet shut off valve was leaking, my water heater pressure relief valve was stuck open and kitchen disposal was rusted out. Disposal was replaced and valves replaced within 1hour. Very polite and just Good people! Will use them again in a heart beat"

Home Owner, Toilet Repair in Clawson, MI

2019-05-20

5★★★★★ - "Spence Bay came out within 2 hours of our call to him and fixed our pipes below our drain"

Richard R, Piping in Wixom, MI

2019-04-19

5★★★★★ - "Spence came on the same day and fixed in 1 hour. I am very happy with his work. I had dryer vent replaced. It was long and horizontal. Now it is straight up from the dryer, in the basement. I am free from fire hazard. Thanks."

Yuko, Plumbing in Novi, MI

2019-04-19

5★★★★★ - "Spence was prompt, friendly and helped me find a cost-effective solution to my plumbing problem. I would definitely use him again and recommend him to others."

Homeowner, Shower Plumbing in Novi, MI

2019-03-14

"Spence was out the day I called, the work was done in a couple of hours. The price was quite a bit lower than the "big company" quoted."

Dan K, Toilet Repair in Novi, MI

2019-03-14

5★★★★★ - "Very good plumbers, dependable, will not charge a dime over what is required. He was very prompt and did a great job for us. I would certainly use him again as needed."

Bummi B, Plumbing in Wixom, MI

2019-03-14

5★★★★★ - "Very courteous and more than willing to work with us in the repair. He brought a faucet to replace a leaky one we had, but it was not to my wife's liking. He waited for an hour while I ran out and purchased a faucet that would pass my wifes muster and installed it and didn't charge for the wait time."

Stanley R., Plumbing in Wixom, MI

2019-02-14

5★★★★★ - "Came when he said he would, fixed the problem. What more can you ask???"

Homeowner, Sump Pump in Oak Park, MI

2019-01-04

5★★★★★ - "Responded after hours and showed up the next morning at exactly the time that was agreed to. Made a very high-quality repair and completed it quickly."

Homeowner, Emergency Service in West Bloomfield, MI

2019-01-04

5★★★★★ - "He was great. He came out when he said he would, he was the first to respond to my e-mail, and he did quality work at a fair and honest price."

Homeowner, Plumbing in Commerce Township, MI

2019-01-04

5★★★★★ - "Spence was so understanding, accommodating and professional! He completed my whole house project in one day and at a fair price. I will definitely recommend Spence to everyone!!!"

Homeowner, Plumbing in Waterford, MI

2019-01-04

5★★★★★ - "Spence showed up promptly and fixed our problem at a fair price. He also did more than we requested and cleaned up afterwards. He was a pleasure to have in our home and we'll definitely use him again in the future!"

homeowner, Plumbing in West Bloomfield, MI

2018-12-19

5★★★★★ - "great guy, very friendly."

homeowner, Water Heater in Rochester, MI

2018-12-19

5★★★★★ - "He was available, polite, prompt and worked fast to tackle all three of my plumbing needs. Already recommended him to my neighbor."

homeowner, Plumbing in Ann Arbor, MI

2018-12-19

5★★★★★ - "Spence is very professional. Our water heater broke down and as busy as he was, still was at our home within a few hours installing a new one. Quick service and a great clean up. No mess whatsoever. We are so happy with Spence. He also taught us about water heater, furn,sump and well pump. Also great price. Best we ever used. Again, Spence Bay, Thank you."

ron coles

2017-12-11

5★★★★★ - "I called Great Provider Plumbing and Spence came out the next day. He took his time to explain to me what he was doing and then showed me what to do to prevent my pipes from clogging up. I DEFINITELY will use him next time and have already told my daughter and friends about him."

Donna W. in Farmington, MI

2016-11-14

5★★★★★ - "He was great. He came out when he said he would, he was the first to respond to my e-mail, and he did quality work at a fair and honest price."

Tammy A, Commerce Twp., MI

2015-05-12

5★★★★★ - "Spence was so understanding, accommodating and professional! He completed my whole house project in one day and at a fair price. I will definitely recommend Spence to everyone!!!"

Kelly K., Waterford, MI

2015-05-12

5★★★★★ - "Spence showed up promptly and fixed our problem at a fair price. He also did more then we requested and cleaned up afterwards. He was a pleasure to have in our home and we'll definitely use him again in the future!"

Barbara S., West Bloomfield, MI

2015-05-12
---
Call for FREE Faucet Repair Quote
---